Electrolyte Powder Buyer's Guide (updated September 2023)
Nutriana Electrolyte Powder Review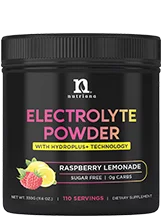 Nutriana Electrolyte Powder promises to strengthen your body, replenish electrolytes, help muscle recovery and restore energy. This product is free of sugar and artificial ingredients. We were interested in analyzing this formula to see which ingredients this manufacturer did include in order to achieve their goals.      
The main selling point for any electrolyte powder is the number of electrolytes found in it. Nutriana Electrolyte Powder contains 5 out of 6 electrolytes. While it is positive that it contains Calcium, Magnesium, Chloride, Sodium and Potassium, it is lacking Phosphorus. In general, Phosphorus is missing from many electrolyte powders when there are only 5 electrolytes in the formula. While most of the Phosphorus in our bodies is found in our bones and teeth, it is also involved in kidney function, regular heartbeat, muscle contraction and nerve signaling.   
We were pleased to see the addition of ConcenTrace® in this Nutriana Electrolyte Powder. We were pleased to see this complex of trace minerals. Even though our bodies only need trace minerals in small amounts, they are vital for all bodily functions including building tissue, contracting muscles, transmitting nerve impulses, blood clotting and even our hearts beating. 
We were disappointed about the lack of Amino Acids in this formula. Certain conditionally essential Amino Acids are known to be especially helpful for the body when it is dehydrated, after extreme exercise or injury. 
We were also disappointed not to find any Coconut Water Powder in this ingredient list. Coconut Water is more hydrating than water and absorbs faster into the body. 
Finally, the ingredient which we always look for in any supplement, BioPerine®, was sadly left out of this supplement. It always astounds us when this is neglected. This is proven to improve the efficacy of any ingredient in your body by increasing bioavailability. Why wouldn't all supplement manufacturers include it then? That's what we can't figure out!
This combination is a great start for a good formula, however, we definitely feel that it could be much better if it included other key ingredients that have been clinically shown to boost hydration and aid muscle recovery. If you're interested in hearing about more aspects of this product, then keep reading to find out more. 
Is Nutriana Electrolyte Powder Effective?
The manufacturer has many claims over the efficacy of this product, so we were looking forward to seeing proof as such. One of the best indicators of how well this will work is the feedback from people who have used it so we turned to actual customer reviews to see what people really think about it and how well (or not) it worked for them and whether they would recommend it. Unfortunately, this is where we hit a roadblock because we were unable to find any customer reviews on their website, which is a real shame. After perusing sites such as Amazon, we found mixed reviews.
The main customer complaint was about the taste. Many people found the flavor to be lacking and because of this, they are not motivated to take this powder daily. If you can get past the taste, this product may be the right one for you. 
Is Nutriana Electrolyte Powder Safe?
In general, this product is marketed as natural and safe. However, we did notice that one of their ingredients has the potential for concern. While the manufacturer proudly advertises a very high dose of Potassium, there may be a danger in ingesting too much Potassium with this product. Too much Potassium can affect the heart which is why it is important to monitor the amount of Potassium you get from your diet before taking this electrolyte powder. 
Summary
Nutriana Electrolyte Powder contains some key components for a quality electrolyte powder. These include:
5 out of 6 Electrolytes
ConcenTrace®
All-natural ingredients
No sugar added 
However, there are many ingredients that are lacking in this ingredient list. While 5 electrolytes are a solid base for an electrolyte powder, it is lacking Phosphorus, which is needed for many important functions in the body.
Additionally, there are no Amino Acids found in this formula. Certain Amino Acids are used to help hydrate and help muscle recovery. 
There is also no inclusion of Coconut Water Powder which is known for its richness in electrolytes and the ability to hydrate the body better than regular water.
The last ingredient which we would have liked to see is BioPerine®. This increases bioavailability which means it takes ingredients and boosts their efficacy so that they work as best as possible in your body. We expect that supplements across the board, no matter which ailment they treat, will have BioPerine®. 
We liked that the price of this product is affordable, it is questionable how cost-effective it will be in the long run considering there are many ingredients lacking in this formula. What usually will assuage our concerns is a manufacturer who stands behind their product. In this case, we found that while there is a return policy, it is only available for 30 days and only if the product is defective or different than what was purchased. This is a huge negative point for us when we found so many products out there that offer true a money-back guarantee. Does that mean the manufacturer doesn't expect you to experience good results? Are they not confident in the products' ability? Who knows, we can only guess the answer to this question.  
Our final feeling is that this product was almost there but would need a few tweaks to reach our prime position. 
What You'll Discover:
✓
Which Electrolyte Powder is the BEST BUY and comes with a great GUARANTEE!
✓
Which formula and ingredients are the most EFFECTIVE and work the fastest?
✓
How NOT to get ripped off! BE AWARE of poor quality and cheap products.
The Top 6 Items to Consider:
Ingredients
Cost Per Serving
Product's Testing Results
Company's Reputation
Consumer Reviews
Return Policy & Satisfaction Guarantee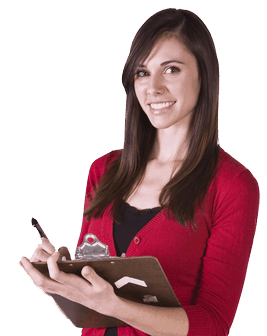 Sign Up For Our Newsletter!
We will send, straight to your inbox, the latest and most relevant information regarding x to keep you updated and informed.
Our promise: We will never share your contact details, unless you give us permission. And, we will only ever send you information that is helpful and significant.